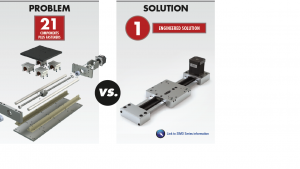 We may have a solution to help you solve problems and reduce complexity in managing projects involving linear axes. Several manufacturers of linear components have difficulty to meet the current global demand right now. The delivery of components such as linear rails, ball screw, and rail guides has been increased buy the double, some from 6 months to 12 months. Making the management very difficult and the level of energy for the management of the orders, just doubled. Have you ever calculated the cost of building your linear solution with individual that involves multiple vendors? PBC linear has come to the conclusion that it is less expensive to buy a complete solution. Consideration must be given to engineering costs, purchase costs, multiple tracking, complex assembly, overhead cost, inventory cost. In addition to possible errors of choice and assembly of 21 component VS. 1. According to the famous principle that if something should go wrong it will always be when you cannot afford it. So imagine forgetting to order components with 12 months of delivery or even a bad choice of caliber that requires a reengineering and another order of 12 months.
To sub contract its linear needs to experts is a good idea. The quantity of system delivered by those manufacturer allows to have a design proven by the community of users and to have judicious advice and to obtain a product closer to its needs without having to over-calibrate all the components. In addition to giving you an audit of your engineering the sub-assembly approach allows you to save time and gain efficiency. This is why PBC linear itself components manufacturing now offers pre-assembled products. Another benefit of the approach is that manufacturers of linear solutions when sourcing from linear components outside have a larger volume and goes first in the supply chains assuring you a better global delivery. Moreover they are able to better manage the situations of drastic change of delivery of components so if you're main reason for being is not the linear axis construction let the experts give you a solution. Some manufacturers for example stock linear Rail and cuts to the desire length has needed. So they can better anticipate and adapt to different market demand. And do not have to wait for the rail manufacturer to cut it.
SIMursO vs Series Comparison. In House Designs
Ask us for a product offer immediately and remove pressure on your supply chain.
Info@prosynergic.com