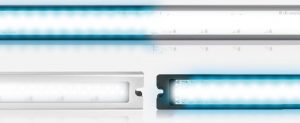 Di-Soric has just taken machine illumination up a notch with the new release of the MB and SB lights. Now combining the standard, high quality white light with the machine status indictation!
One device for every requirement. By combining the machine light with the machine indicator light – less inventory is required, reducing cost. Clearly display machine status or machine segments in vibrant, unmistakeable colors. Quick and easy installation, with extreme light intensity. Flexible mounting with swivel mounted retaining bracket or magnet mounting.
Compact design with three models to choose from: White Light – RGB Signal Light – Combined RGB + White Light.
Ready for use right away with 3 color re-sets (red, yellow, green). Fully customizable with a virtually infinite number of possible colors. Brightness levels can be individually programmed, as well as, different flashing patterns to individual colors.
The possibilities of how and where to use these lights is endless. Imagine, instead of just a stack light that the operator has to look up at – now the whole area will light up indicating to the operator the status!
You can view a video at
To learn more about this product or to schedule a demo – contact Prosynergic